Here are Step by Step Instructions to Complete the GDI Learning Bonus.

A. Log into your GDI back office.

B. On the left, click GDI Bonus.

C. Scroll down and click GDI Learning Bonus.
Everything will be grayed out because you have not done anything yet.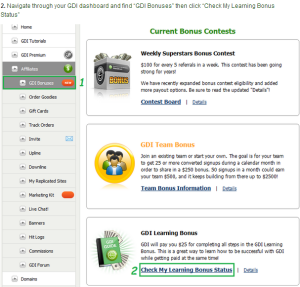 Complete GDI Learning Bonus

Steps #1-#6 are what you need to complete in order to earn your $25 learning bonus.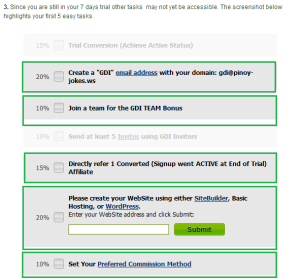 Step#1. Trial Conversion (Achieve Active Status) 

This happens automatically when your $10.00 payment has been processed by GDI at the end of your 7 day free trial.

This will complete step #1, congrats!

Complete GDI Learning Bonus

  Step#2.  Create a "GDI" email address with your domain: gdi@cashandfreedom4u.ws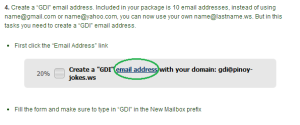 Create exactly what they show you. Mine was gdi@cashandfreedom4u.ws

Click where it says "email address" this will take you to the next page that will have this box:





In the first box where it says New Mailbox Prefix, type in gdi, the rest is there for you,
  enter your email in the box below if you wish to be sent a confirmation of this, then click "Create Mailbox" .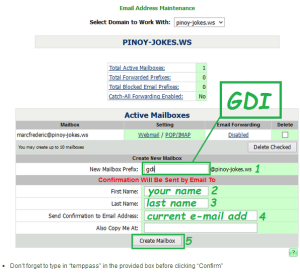 This takes you back to the email maintenance page where you will see your new GDI email address you created!





Click on Webmail. Enter your temporary password temppass in the first box.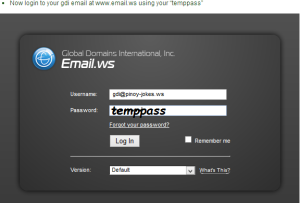 Complete GDI Learning Bonus

You will be taken to a new page that will give you a temporary password to log into your new GDI email account,
it is usually temppass.  Copy and paste it in the box where it says password,
click Confirm. You will be asked to create a new password. Write it down once you have created it.
This will be your permanent password.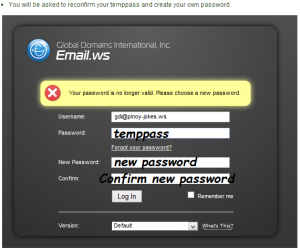 This  completes step #2, congrats!

Complete GDI Learning Bonus

STEP#3. Send at least 5 Invites using GDI Inviters.

Click on the word Invites. This takes you right to the Classic Inviter.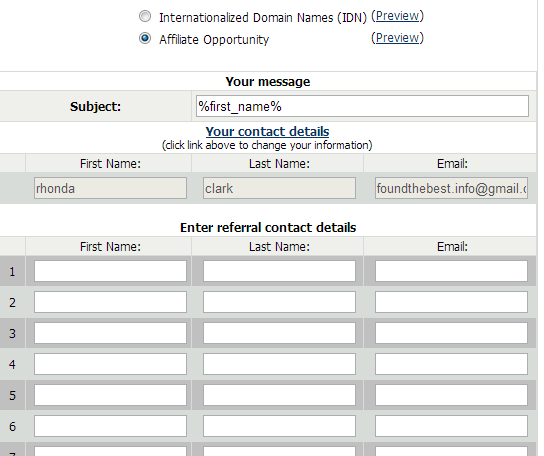 You may choose from 2 different GDI presentations. You can preview each one to  see which you like best,
then click to highlight the blue dot next to the one you wish to be sent to your prospects.

Fill in first and last name and email address of prospects. They ask you to send 5 to meet the bonus requirement,
but take advantage of all 10 and invite people to take a look at GDI. Once you have all your prospects listed,
go down to the button that says "Send Your Invitations!". You have now completed step #4 of your Learning Bonus!

This  completes step #3, congrats!

STEP#4. Directly refer 1 Converted (Signup went ACTIVE at End of Trial) Affiliate.

This is pretty self-explanatory.  You need to recruit one member who becomes active at the end of their 7 day free trial.

You will find a large selection of GDI capture pages in your back office by going to My Replicated Sites on the left.
Be sure to pick your language. You can view each one before choosing. GDI will take note of your new member
 and mark your step with a green check mark once they see they became active. This  completes step #4, congrats!

STEP#5. Activate your WordPress Site using either SiteBuilder or WordPress.

I suggest you use WordPress, it is easier to navigate around in.

Click on "WordPress and more" on the left in your menu. You will then see this: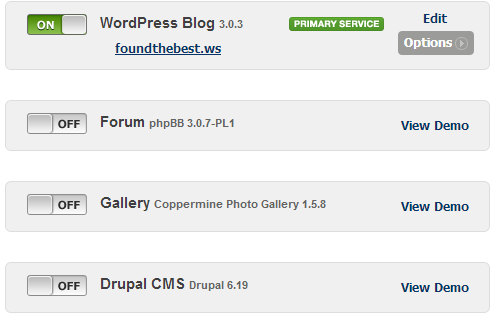 Choose WordPress Blog. Yours will say off, turn it on.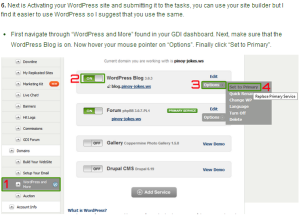 Under Options, set to Primary. This way if you ever want to create more than one blog,
this will be your primary blog, all others will be sub-domains.

Now Type in your Domain in the Learning Bonus Box. See the example below, yours will look like that, but with your unique name you picked!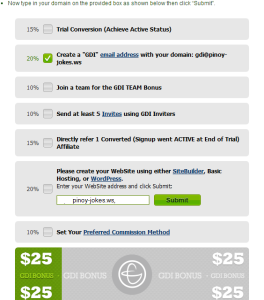 This completes step #5, congrats, you're almost done!

STEP#6.

  Set Your Preferred Commission Method 

Click on Preferred Commission Method.  You will see this chart: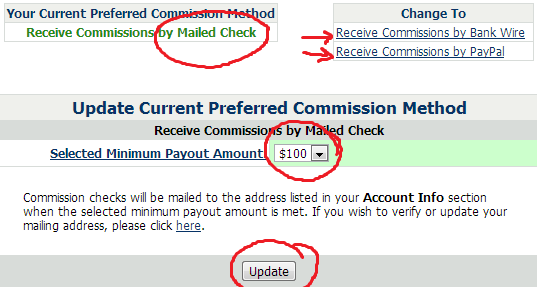 I prefer being sent a Check once my balance reaches $100.00. Anything less, there is  a fee. You can change your preferred
commissions method by choosing one from the right, but take note of the fees.

Once you have made your choices, hit Update and it will be saved. If you ever wish to change the method or amount, come back in here
to make your changes, always remember to hit update. You will be required to fill out some documents and send them
in to be able to withdraw your commissions. You will find what needs to be completed and sent on your commissions page.

This  completes step #6, congratulations!

Once GDI sees you have completed each step, they will check them off. Some are almost instant, some take up to a week,
so keep this in mind if you are going to put this off. You only have 8 weeks to complete this.
If you start it in your 7th or 8th week, you may not get things checked off in time, especially if you did something wrong
and had to re-submit it.  This is what a completed Learning Bonus looks like!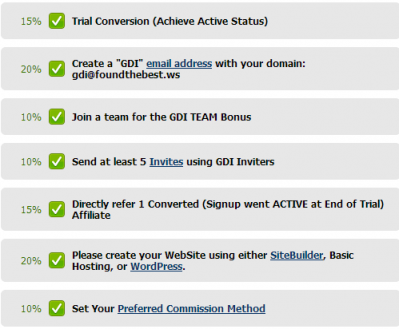 CONGRATULATIONS! 

You completed All The Steps In Your Learning Bonus!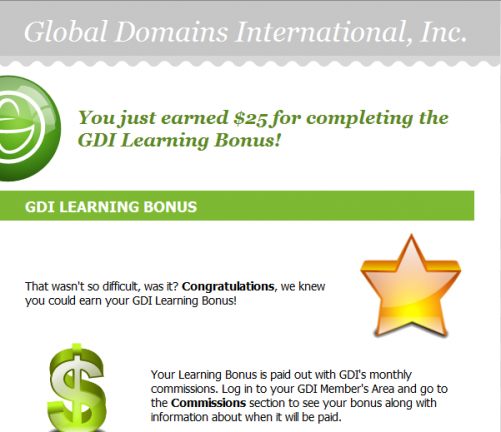 Now your mission is to get 10 people under you to complete their Learning Bonus.

WHY? Because when 10 people Complete GDI Learning Bonus, YOU EARN $250.00!